Your Trusted Garage Door Repair Specialists ​
At Garage Door Repair Castle Pines Colorado, we understand the critical role your garage door plays in the daily routine, safety, and security of your home or business. An efficient garage door is a blend of functionality, security, and aesthetics, a combination we're committed to providing to all our customers.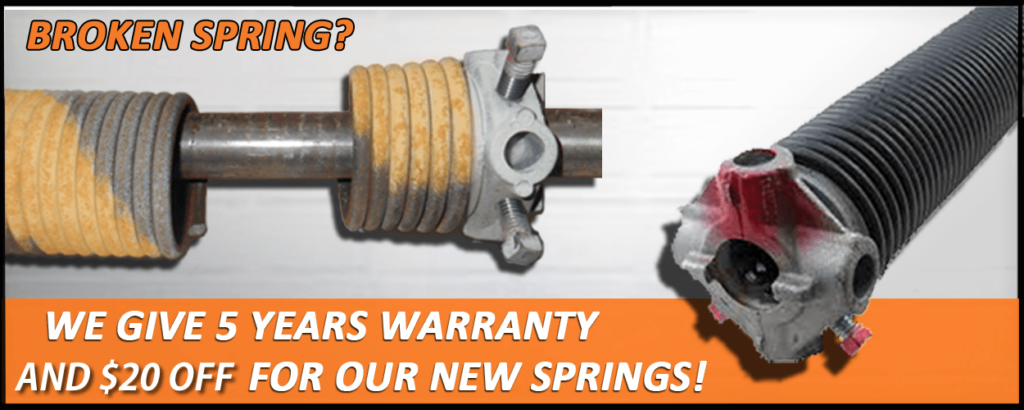 A crucial component in the proper functioning of your garage door is the torsion springs. These essential elements bear the weight of the door, enabling it to move smoothly and effortlessly. However, with time, the torsion springs can wear out, making the door hard to open or close. When you notice such a problem, it's time to avail our specialized Torsion Springs Service.
At Garage Door Repair Castle Pines, Colorado, we offer comprehensive torsion springs services. Our team of skilled professionals is adept at assessing the condition of your garage door springs and recommending the most efficient solution. Whether it involves adjustment, repair, or replacement of the springs, we have the skills and equipment to ensure your garage door operates smoothly again.
There's nothing quite as disruptive as a broken spring in your garage door system. It can hamper your routine, restrict your access, and compromise your property's security. That's why our Broken Spring Repair services are designed to be prompt, reliable, and effective.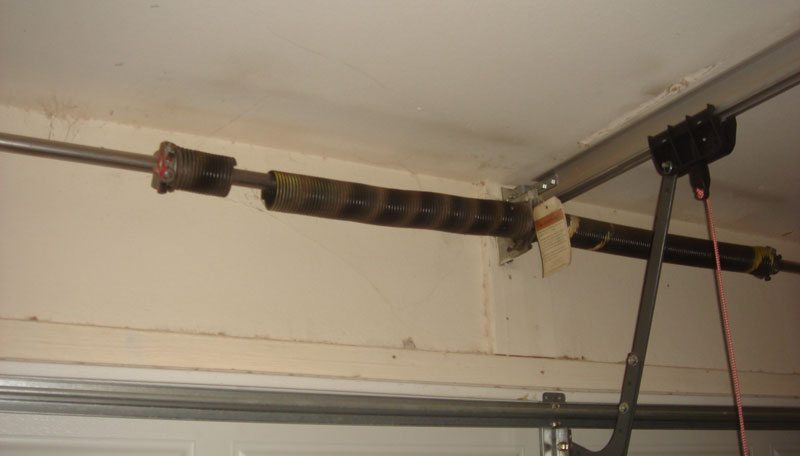 What Causes Garage Door Springs to Fail?
Various factors could contribute to the malfunctioning of garage door torsion springs. Here are the most common causes:
Regular Wear and Tear: Wondering about the lifespan of garage springs? Typically, garage door torsion springs last for approximately 10,000 cycles. However, this duration can vary depending on the frequency of door usage. Regularly used doors may cause the springs to wear out sooner than expected.
Rust Formation: Rust can significantly weaken springs and increase coil friction, which can lead to failure. To prevent rust and prolong the springs' lifespan, it is recommended to apply a silicone-based lubricant a few times a year.
Inadequate Maintenance: Regular balance checks are crucial for the optimal functioning of your garage doors. You can conduct a simple test by lifting the door halfway and letting go. If the springs are in good condition, the door will either stay put or move slightly. However, if the door descends, ascends, or tilts, it indicates that the balance is off, requiring a professional's intervention to adjust or replace the springs.
Extremely Low Temperatures: During severe cold spells, garage door springs are more susceptible to snapping. The intense pressure exerted on the coiled steel combined with low temperatures could lead to the springs' failure. To avoid this, it's advisable to invest in high-quality steel springs, as they are less prone to breakage compared to their cheaper counterparts.
Manufacturing Flaws: Sometimes, springs may break due to inherent manufacturing defects. For instance, extension springs could break off at the end, or torsion springs might rust if not adequately galvanized.
Misalignment: Springs can handle a weight variation within 5% of their calibration. If a spring is used on an excessively heavy door, it's likely to break under immense pressure. Although the door might still operate, a significantly heavier load than the spring's calibration will eventually cause it to fail.
Garage Door Repair Castle Pines Colorado is dedicated to providing exceptional garage door repair services, including specialized Torsion Springs Service and Broken Spring Repair. We uphold the highest standards of professionalism, customer service, and workmanship in every job we undertake.
Our dedicated team responds quickly to such emergencies, equipped with the expertise to identify the issue and the tools to fix it. We prioritize your safety and convenience, which is why we work diligently to repair broken springs and restore the functionality of your garage door as quickly as possible.
Trust us with your garage door repairs, and experience the difference. Call us today. Let's ensure your garage door remains an asset and not a hindrance.
Our technicians are experienced and trained to handle garage door springs repairs and replacements. You can trust them to provide you with fast, reliable service. They have the knowledge and skills to quickly diagnose and fix any issue with your garage door spring.
Dealing with a broken garage door spring is always inconvenient. That's why we prioritize quick response times when our customers need us most. 
Our experienced technicians come equipped with the necessary tools and parts to complete most repairs on the spot. With our fast response times, you can trust that we'll provide a reliable and efficient solution. 
Our fast response times can help minimize the disruption to your daily routine. We'll arrive at your home or business promptly and work efficiently to fix your garage door as soon as possible.
We understand that using quality materials is crucial for ensuring the safety and longevity of your garage door. So we use only high-quality materials for all garage door spring repairs and replacements.
Using top-quality materials ensures your garage door will function properly and last long. That's why we source our materials from trusted manufacturers and suppliers.
Garage door spring replacement and repair should be affordable for everyone. That's why we offer competitive pricing on all our services, so you can get the repair or replacement you need without breaking the bank.
We understand garage door spring issues can arise anytime, so we offer 24/7 emergency services. You can count on us to be there whenever you need us, day or night.
We are committed to providing our customers with the highest level of satisfaction. We stand behind our work and offer a satisfaction guarantee for all garage door replacements and repairs.
Risks of DIY Torsion Springs Service
Attempting to replace the garage door springs by yourself can be an extremely dangerous task, and you should not ever do that. Here are some reasons.
Garage door springs are under high tension and can cause serious injury if mishandled. Attempting to repair or replace them without proper training and equipment can result in severe injuries.
If you attempt to replace the garage door spring, you may need the correct spring size or type for your specific door. Using the wrong spring can cause your garage door to malfunction. It can also cause damage to your property or harm you or others.
Garage door springs are complex mechanical devices. Failure to repair or replace them without proper knowledge and experience can result in mistakes. It can further damage your door.
Repairing or replacing garage door springs requires specialized tools you may not have access to. It can result in a malfunctioning garage door. With the proper tools, you can complete the repair or replacement correctly. 
Garage door technicians are trained to take safety precautions when handling door springs. They use safety glasses, gloves, and protective gear while working. Without these safety measures, you are putting yourself at risk of serious injury.
In Garage Door Repair Castle Pines Colorado we only have highly trained technicians that carry the proper tools, and they can perform the job in the best and safest way. Repair of broken springs requires an experienced technician; there are many different kinds of garage doors in different sizes and from different materials, and as a result that the garage doors are of different weights; the correct spring size is determined according to garage door weight, and that is why is so important that a professional garage door technician will perform the job will find the exact right size of the spring your garage door system needed and will cause the spring lifetime length, the garage door performance and the garage door efficiency to be on their best.
Professional garage door repair technicians have in-depth knowledge of garage doors. They have the experience and training to diagnose and repair any issue with your garage door.
Every garage door is unique. A professional repair service can provide customized solutions to fit your specific needs. They can assess your garage door and recommend the best action to repair or replace any damaged parts.
Garage doors provide an essential entry point to your home, and a malfunctioning door can pose a security risk. A professional garage door replacement and repair service can ensure your door functions correctly. Resulting in enhancing the security of your home.
A well-maintained garage door can enhance the curb appeal of your home. A professional garage door repair service can repair or replace any damaged parts. They ensure that your garage door looks great and functions correctly.
A professional garage door repair service can provide excellent customer support. They also ensure that you have a positive experience from start to finish. They can answer any questions, provide updates on the repair process, and ensure you are satisfied with the repair work.
So, don't let a broken garage door spring disrupt your daily routine. Call us today at our office at (720) 445-4477 to schedule an appointment and enjoy the best garage door springs repair service in Castle Pines and the entire south part of the great Denver region.
What are garage door springs, and why do they need to be replaced?
Garage door springs are the coiled metal parts of your garage door that lift and lower the door. Over time, they can break due to wear and tear or any damage. This can result in the malfunctioning of the door. That is why they need to be replaced.
What are the signs that indicate I need a garage door spring replacement?
Here are a few signs that indicate that your garage door spring needs to be replaced:
You notice uneven movement
There is visible damage or wear on the springs
You hear a loud or unusual noise during the operation of the door
The door feels a bit heavy
Can I replace the garage door springs myself, or do I need a professional?
There are a number of risks involved with DIY garage door spring replacement, which is why it is always recommended to hire a professional for the job. The replacement of springs requires specialized tools and knowledge. You can get in touch with our expert technicians at Garage Door Repair Castle Pines Co for garage door spring replacement.
How long does it take to replace garage door springs?
It does not take more than an hour to replace the garage door springs when our professionals are doing the job.
What are the different types of garage door springs?
There are mainly two types of garage door springs that are mounted above the garage door: extension springs and torsion springs.
What is the warranty on the garage door spring replacement service?
As a professional garage door repair company, we provide a 10-year warranty on garage door spring repair.
How can I avoid future issues with garage door springs?
To avoid any future issues with the garage door springs, you should focus on regular maintenance, including lubrication and inspection. Also, if you suspect any issue, call our professional technicians immediately to prevent further damage.
How often should I have my garage door springs inspected and replaced?
It is advisable to have the garage door springs inspected by a professional at least once a year. While the lifespan of the springs may vary, they can last up to 6 to 10 years before needing to be replaced.
How can I schedule a garage door spring replacement with Garage Door Repair Castle Pines CO?
To schedule a garage door spring replacement with us, you can simply call us at (720)445-4477. We also take calls 24/7 for emergency garage door repair and installation service.